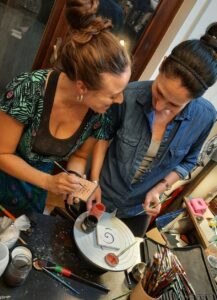 Do you know those periods when you are swamped with commitments and work and you feel tired and mentally stuck? Well, I know it. I felt the need to do something that would recharge me with energy and that would reactivate my creativity. Often bureaucracy, deadlines to be respected and logistics absorb almost all my strength and leave no room for my purely artistic and emotional expression.
Always thinking of the realization of my events, I contacted a dear friend of mine, a versatile artist with unique charisma and professionalism, asking her for some original ideas.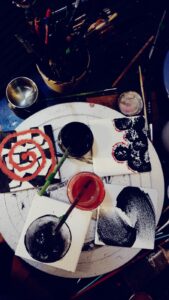 From a simple input it was born an incredible inspired and inspiring night.
I found myself into a new world, painting was almost completely unknown to me, I always thought I didn't have enough skills and knowledge to practice it. But this time it was different, painting was not the main theme of the night, but the free expression of our own creativity, without thinking too much about the technique, without judging and without judging ourselves.
We chose ceramic as  support, a material that is not easy to start with, but with an absolutely surprising result. The colors were powdered, at the sight of the colored powders and brushes my mind immediately felt regenerated and inspired.
After the first timid brush stroke I let myself go to the emotions that came out such as the lines and shapes with the passage of my hand.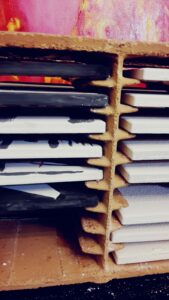 It was a really exciting experience, it enriched me with ideas and emotions. In addition, now I have unique pieces to enrich my table set with details.
Uniqueness and exclusivity of ideas and details, to make each project refined and personalized. This is my goal and I work every day to achieve it.
What makes me grateful and satisfied is that achieving my goals always leads me to meet exceptional people and fantastic stories.
It is a journey that makes me grow and has no limits.